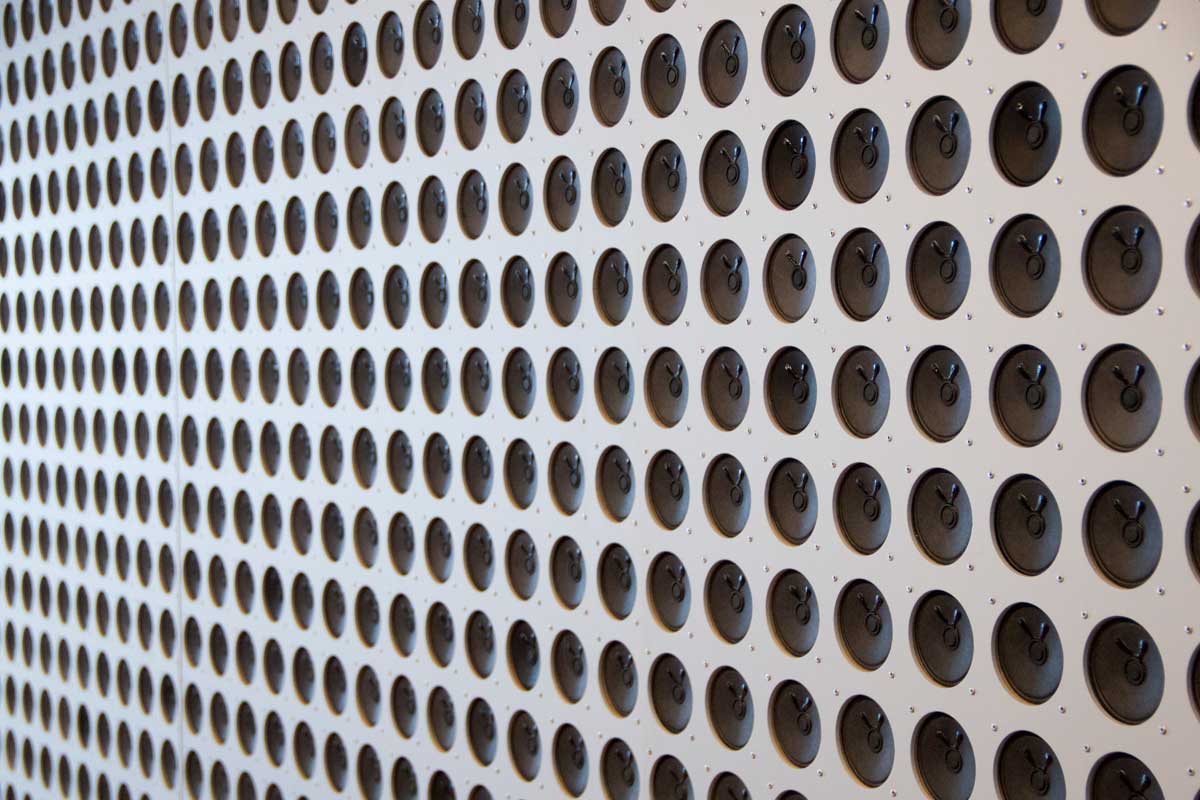 Soundings, MoMA's first-ever exhibit devoted to what could broadly be defined as sound art, is now up through November 3. Going into it, I was excited that some pieces and/or artists who I respected greatly were being given space at such a world-renowned institution; I also figured that I would be a little disappointed by what was (and wasn't) there, that it would inevitably fall short of what it could be. And those feelings are pretty much the same ones I left with. There are some wonderful pieces in this show and I'd suggest that it is mandatory viewing/listening for anyone interested in a field as amorphous as this one is. But it's hard not to think of how it could have been great, as opposed to just good. Here are some stray thoughts I had on my walkthrough:
-I was very much into Tristan Perich's Microtonal Wall, pictured above. The first piece you encounter upon entrance into the show—and it is an encounter, because it's virtually impossible to ignorable—is a wall of sound, not in the Spector sense but literally a set of 1,500 speakers arranged alongside the hallway. With each speaker tuned to a slightly different pitch on a spectrum of sound, it's a needling piece that also invited physical interaction. I walked up and down it numerous times, just hearing the minute changes and experiencing octaves. It's a simple but conceptually strong piece.
-When I visited Soundings I was in the middle of reading the recently reprinted anthology of essays, Sound By Artists, originally published in 1990. Some of it is outdated, but the introduction by Dan Lander had some interesting ideas relation to a question that kept going through my head while viewing the exhibit: how "musical" can sound art be? Lander writes:
"The terms experimental music and sound art are considered by some to be synonymous and interchangeable. In fact, it is difficult to identify an art of sound precisely because of its historical attachment to music. Although music is sound, the tendency has been to designate the entire range of sonic phenomenon to the realm of music. With the introduction of noise—the sounds of life—into a compositional framework tending towards the ephemeral and avoiding referential, artists and composers have created works based on the assumption that all sounds uttered are music."
Little of what you experience in Soundings would be considered by most to be music. That wasn't especially surprising, but it reminded me of how sound art is maybe "supposed" to be amusical or that it can't engage in traditional structures of music, at least not without subverting or dismantling them. I don't know how I feel about that, though I imagine that kind of divide might have originally risen out of a sincere need or desire to recontextualize new approaches of sound. The point is that little of the sound in these galleries is especially emotional to listen to in conventional terms—which is fine, it's just an observation.

-Susan Philipsz's Study for Strings is mostly an exception to that statement. Essentially, she stripped down components of a score by Pavel Hass, who was murdered at Auschwitz, so that only the cello and viola arrangement plays. The result is a sort of elegy, a composition whose fragmentary nature serves as a meditation on longing, memory, and identity. That said, I think Janek Schaefer's Extended Play, which appeared four years before Study for Strings, covers quite similar ground in a more emotionally and aesthetically resonant way.
-Jana Winderen's room of pitched-down recordings of animals and insects—sounds usually beyond the threshold of human audibility—allows visitors to sit in a dark room, close their eyes, and invite the sounds into their imagination. It's moderately engaging, but I thought it would have been more interesting conceptually just to play the sounds in the space as they are heard (or not heard, as it were) in the natural world. (I recognize this might seem annoying— though apparently Stephen Vitiello, whose A Bell for Every Minute is featured in Soundings, made a work quite similar to this, where subaudible sound became visible as it shook the speakers through which it was amplified.)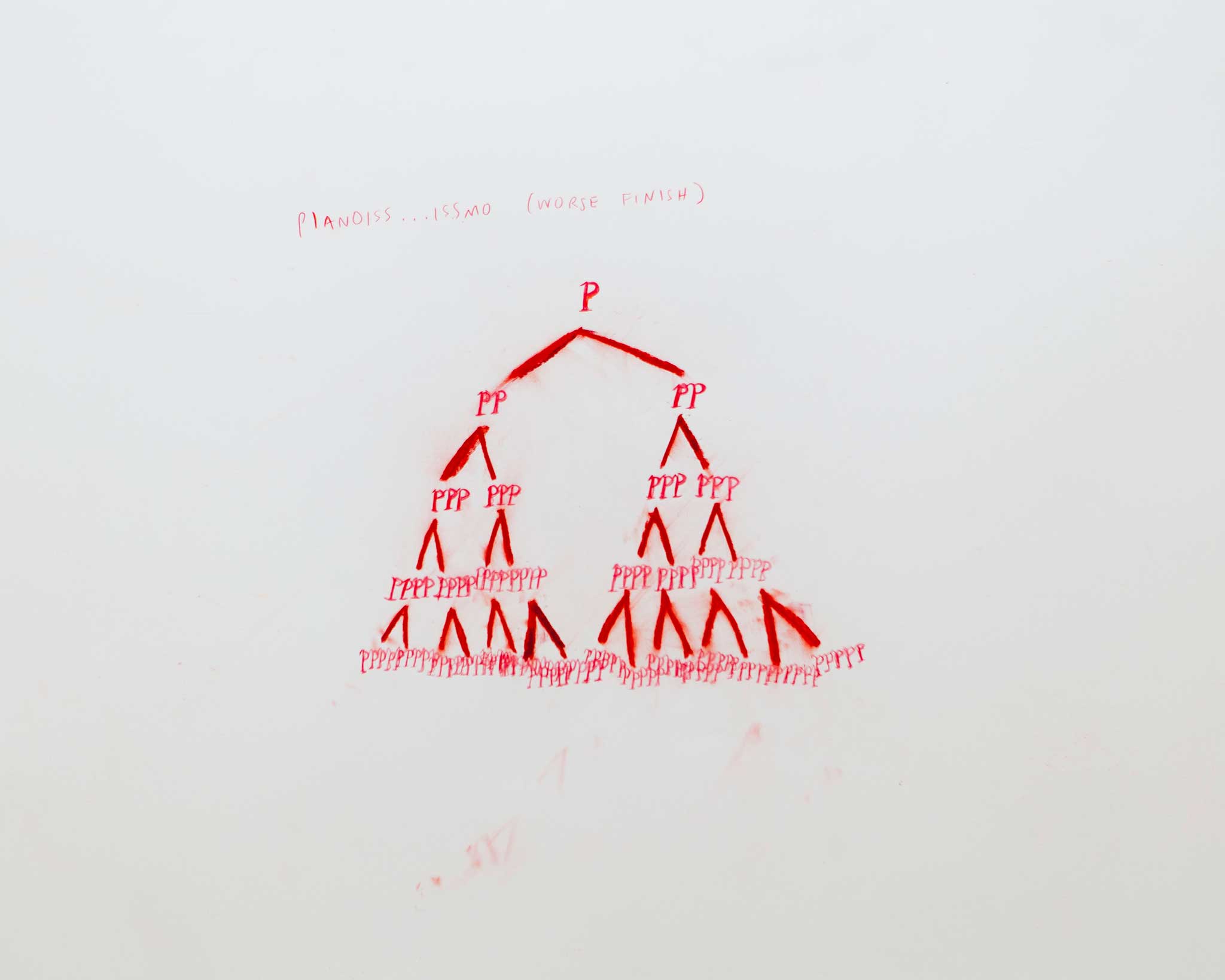 -Christine Sun Kim's piece on paper—half-transcription, half-abstract exploration of how to visualize sound—was new to me and some of my favorite work in the show. Obviously the fact that she is deaf adds a complex layer to it but I think that it's part of what feels vital and challenging about it.
-I can't believe Stephen Cornford isn't represented in this show. What a complete oversight. It would have been nice to see more about sound art from decades past given that this is MoMA's first survey (and I imagine the second isn't coming around especially soon), but even with the history left out, Cornford should be there. Christian Marclay and Steve Roden too.
-Regardless of any grumblings, the show is worth your time.